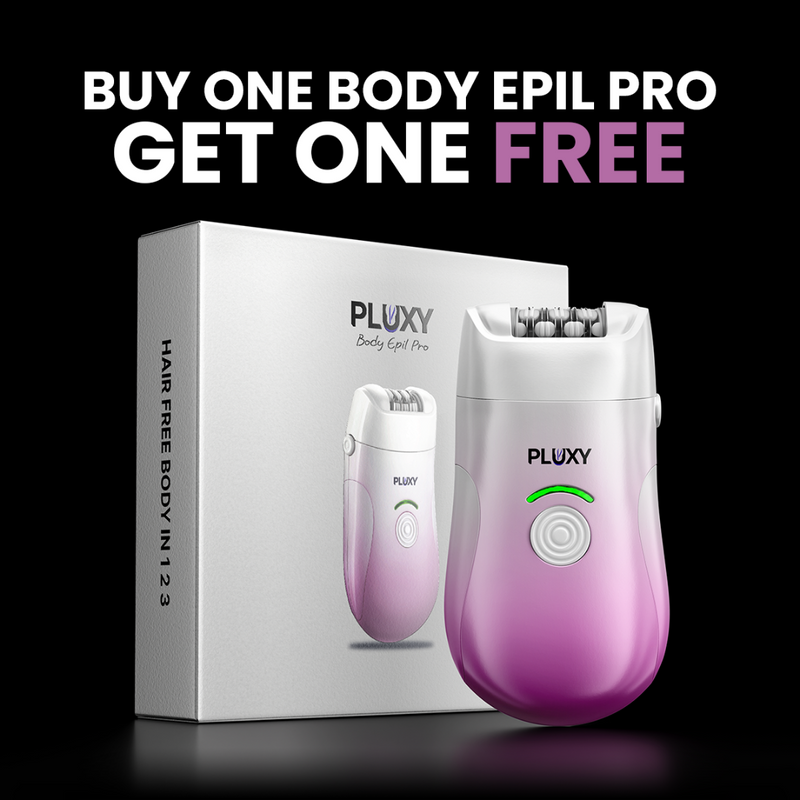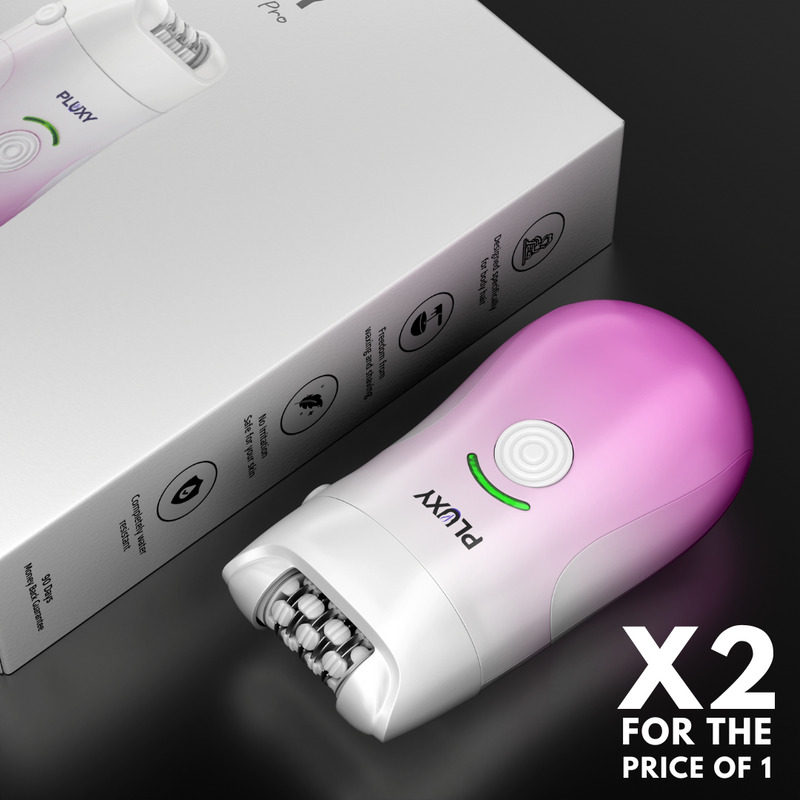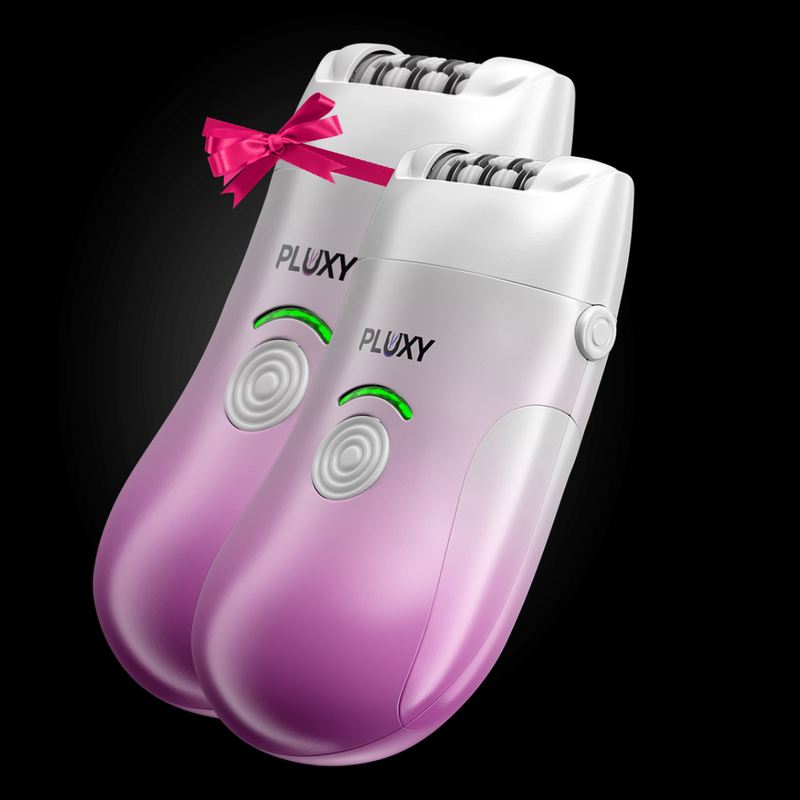 PLUXY™ - DUO BUNDLE
Almost Gone
202 people are currently looking at this
90 Day Money Back Guarantee

Free Worldwide Shipping
20,000+ 5 Star Reviews
"I used to work hard to keep my face hair-free and had to tweeze every day or two. Shaving helped, but it left a rough sandpaper feeling on my skin. PLUXY has made a huge difference - my hair growth has slowed down and the hairs that do grow back are finer. In some areas, it hasn't even grown back. This thing is a miracle worker!!"
- Sara Bennett - USA 🇺🇸

What Makes Our Body Epilator Perfect For You Complete Hair Removal
Our Body Epil Pro removes even flat-lying hairs from the root in a single stroke, ensuring your skin is smooth and irritation-free. Hair grows back slower and thinner, providing lasting smoothness. At-Home Salon Experience
With textured ceramic discs, the Body Epil Pro eliminates even the shortest hairs, as small as 0.5mm, straight from the roots. Say hello to salon-like smooth skin that lasts for up to four weeks! Precision Contouring
Effortlessly adapts to every curve, efficiently reaching tricky areas like knees and underarms. Precision hair removal has never been this easy. Cordless & Waterproof Freedom
Embrace the convenience of our cordless, waterproof device. Dive into the bath or shower and tackle hairs four times shorter than wax can remove - wet or dry.

More Convenient and Less Painful Than Waxing
Experience damage-free results with our body epilator. Gently buff away dry, calloused skin using our exfoliation head, and use our shaving head to perfect bikini lines. Enhanced Skincare
The Body Epil Pro is not just about hair removal; it's a skin-enhancing experience. Enjoy soft, smooth skin you'll want to show off!

No more shaving and waxing!
Salon results for a fraction of the price

DERMATOLOGICALLY TESTED
IRRITATION FREE

ANTI-BACTERIAL
ANTI-ACNE

NO DAMAGE

NO TOXIC CHEMICALS
Any questions? Let us answer them
Pluxy is designed for anyone seeking an effortless and effective at-home skincare solution. Whether you're juggling a busy schedule or simply looking for a convenient way to enhance your hair removal routine, Our epilator is your go-to device for maintaining freshly smooth skin.
Absolutely. Safety is one of our top priorities at Pluxy. Our Facial Epilator is expertly designed to be gentle on the skin, providing professional results without causing any harm or discomfort.
Does Pluxy fit all skin types?
Yes, Pluxy is suitable for all skin types. The device and its attachments have been carefully designed to work effectively and gently across a variety of skin types, including sensitive skin.
Can Pluxy be used both wet and dry?
Yes, Our Facial Epilator is designed to be versatile and convenient, allowing you to use it in both wet and dry conditions. Whether you're in the shower or on-the-go, Pluxy is your perfect skincare companion.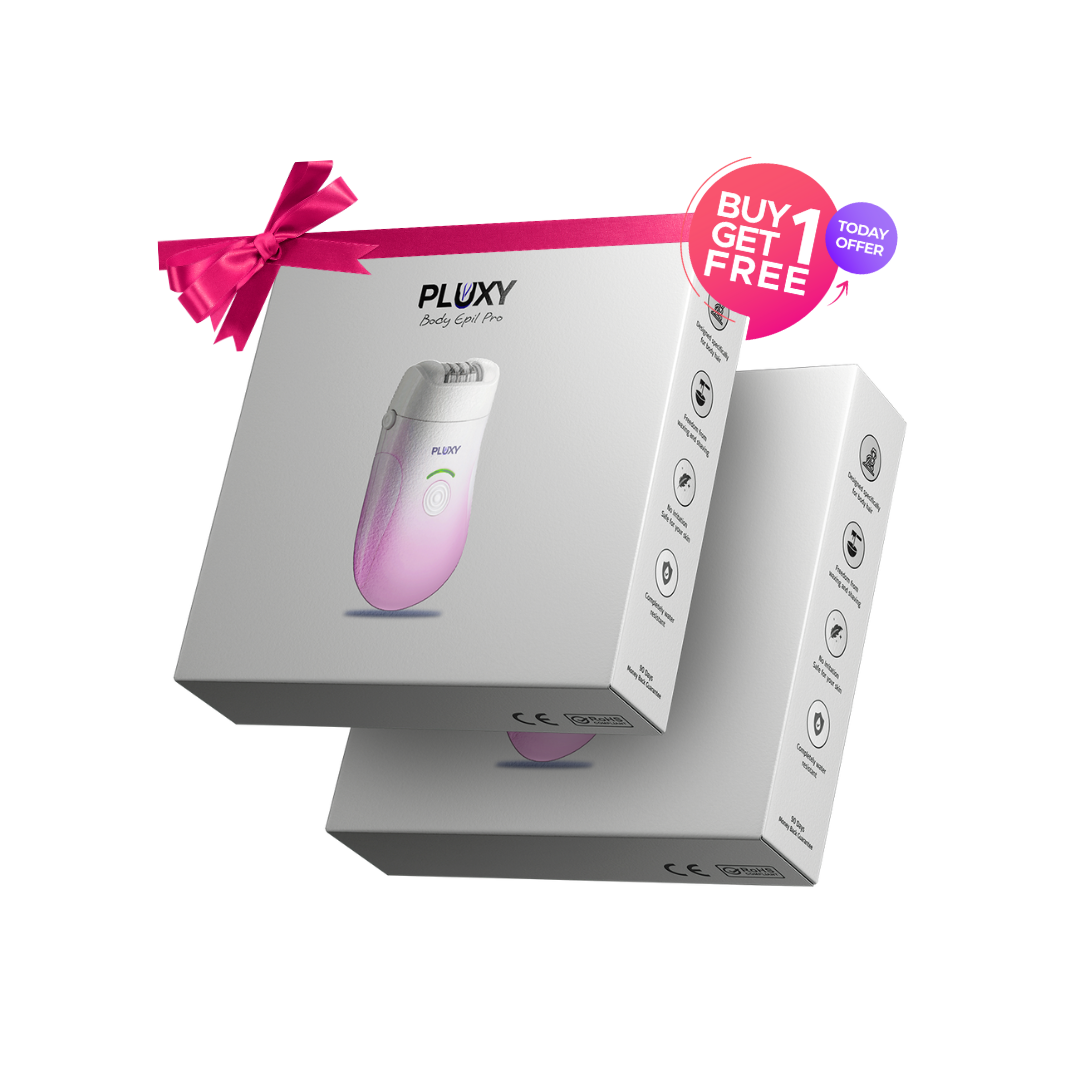 BUY ONE BODY EPIL PRO, GET ONE FREE!
No need for discount codes, just place an order and receive a FREE Body Epil Pro device with your order today!
UNLOCK YOUR FREE EPILATOR NOW!