This Is How Women Can Finally Ditch The Weekly Chin Shaves From Home
by Kayla Anderson
Being an adult woman simply means having a favorite pair of tweezers… I think about my whiskers THE WHOLE TIME, and every other day spend about an hour plucking out what my son likes to call my "fallen eyebrow hairs"... yes, I do mean the hairs on my chinny chin chin!
It's like no matter how hard I try, even when it looks like I've finally gotten them all I step outside of my house, into my car and BAM the light of day shows me just how mistaken I was! I literally kept tweezers in my car so when I got to the perfect patch of light, I could see EVERY SINGLE one of them.
A good friend of mine told me about a womens facial epilator called Pluxy that removes hair much faster than you can with tweezers, without irritating your skin and works very effectively to reduce regrowth over time. Take a look at the results below and see why I've become a fan.
It Does More Than Just Pull The Hairs Out, It…
Removes hair without damaging your skin
Reduces your hairs' ability to grow
Protects your skin from rashes, irritation, and cuts
Retains your skin's natural elasticity
Eliminates the excessive price tag of monthly salon visits
Ensures fast & long-lasting results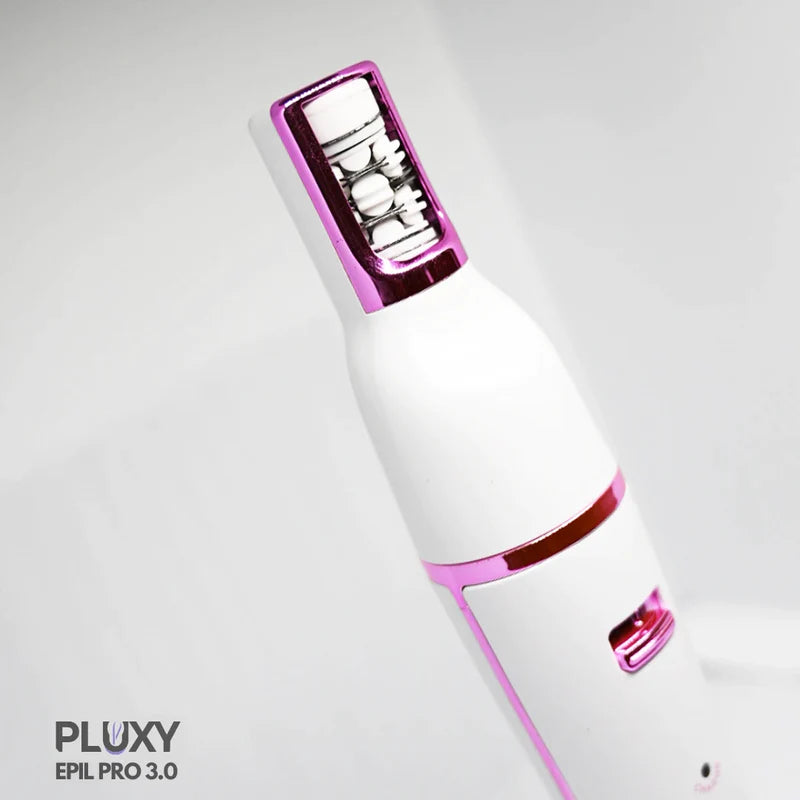 You'll See Smoother Skin, More Easily, For Longer.
Seriously. Within seconds you'll know this is a superior solution for your pesky chin hairs.

Difficult spots will be smooth, stubborn coarse hairs will lift from the skin with ease and your skin will remain perfectly intact.
It's Engineered Specifically For Women's Faces.
We're women. Our faces are softer. More sensitive. It ages differently. We need a different kind of care from hair-removal methods than men do. Pluxy gives you that delicate attention and care your face deserves.

Pluxy's team of experts in women's facial hair did extensive research for 2 years until they found the perfect engineering that would prevent us from ever feeling the fear of someone reaching to touch our cheek again.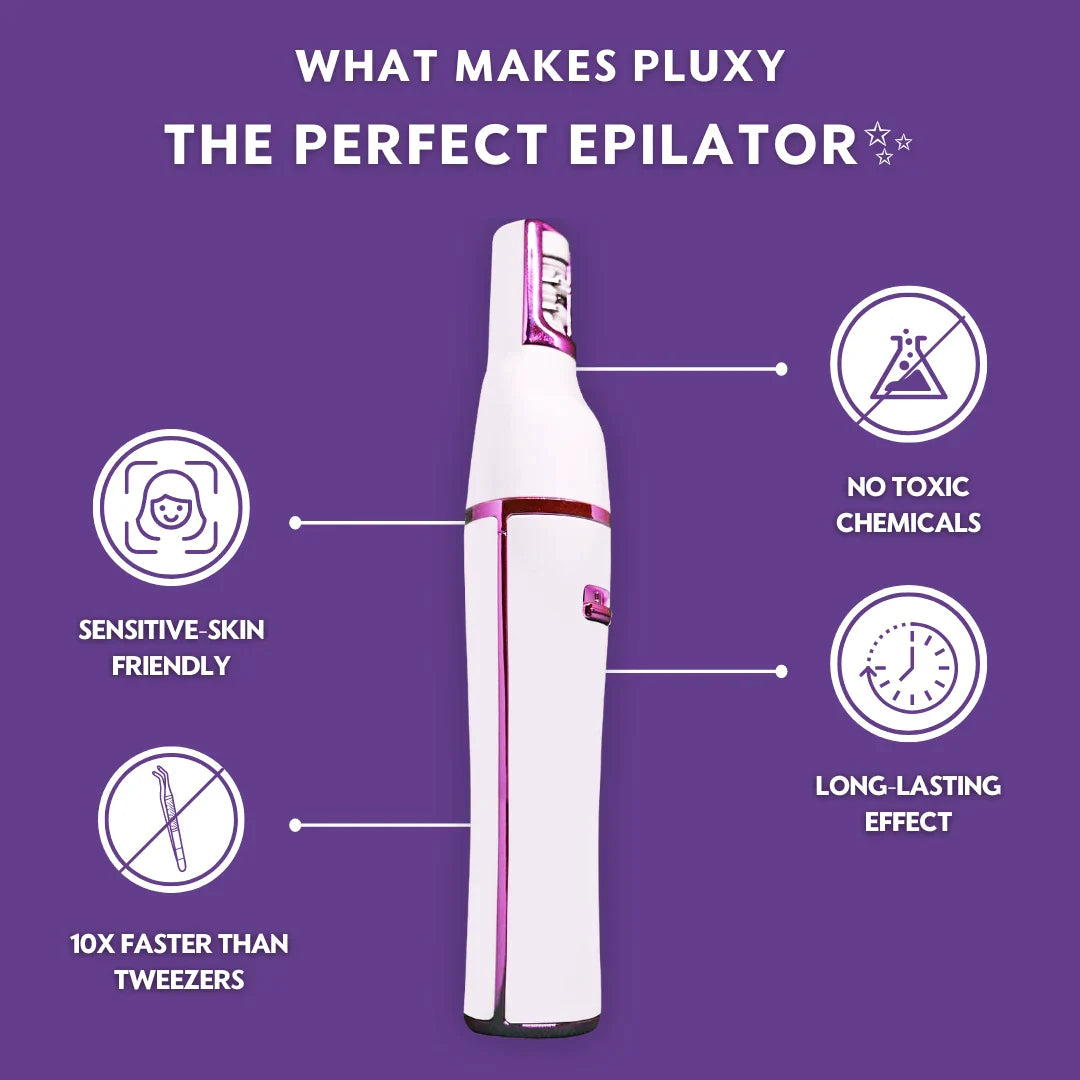 It Combines Elite Patented Technologies.
Pluxy combines scientifically backed technology which is EXACTLY what your face needs at every stage of the hair-removal process, every time.
Magazines Like Marie Claire and Women's Health Recommend it
"Here's How Women Can Finally Overcome Dreaded Peach Fuzz" [Marie Claire]

"The Best Epilator For Damage-Free, Hairless Skin" [Women's Health]

"This Facial Epilator Is Revolutionizing The Women's Hair Removal Game"[ALLURE]
It Feels Ooooooohhh
Pluxy doesn't irritate and won't leave you with rashes or raw skin after use. It removes hairs so much faster than tweezers and still keeps your face fuzz-free without the aggressive effects of gunky, disposable razors or hot wax.
Exuberant Customers Are Giving It A 4.8 Rating!
"No more tweezing everyday, literally in 10 minutes I find the usual nightly spurts are gone and stay gone!" - Holly 53, UK

"I FEEL SEEN! Don't even get me started on laser hair removal… I did it and it grew back in my 30s! Pluxy has really changed the game of long term solutions and for this price… I'm just pissed I wasn't aware of it sooner" - Neisha Trevors, 42 US

"This! I have literally ditched my emergency handbag tweezers since purchasing. Enough said" - Diane Reeves, 49 UK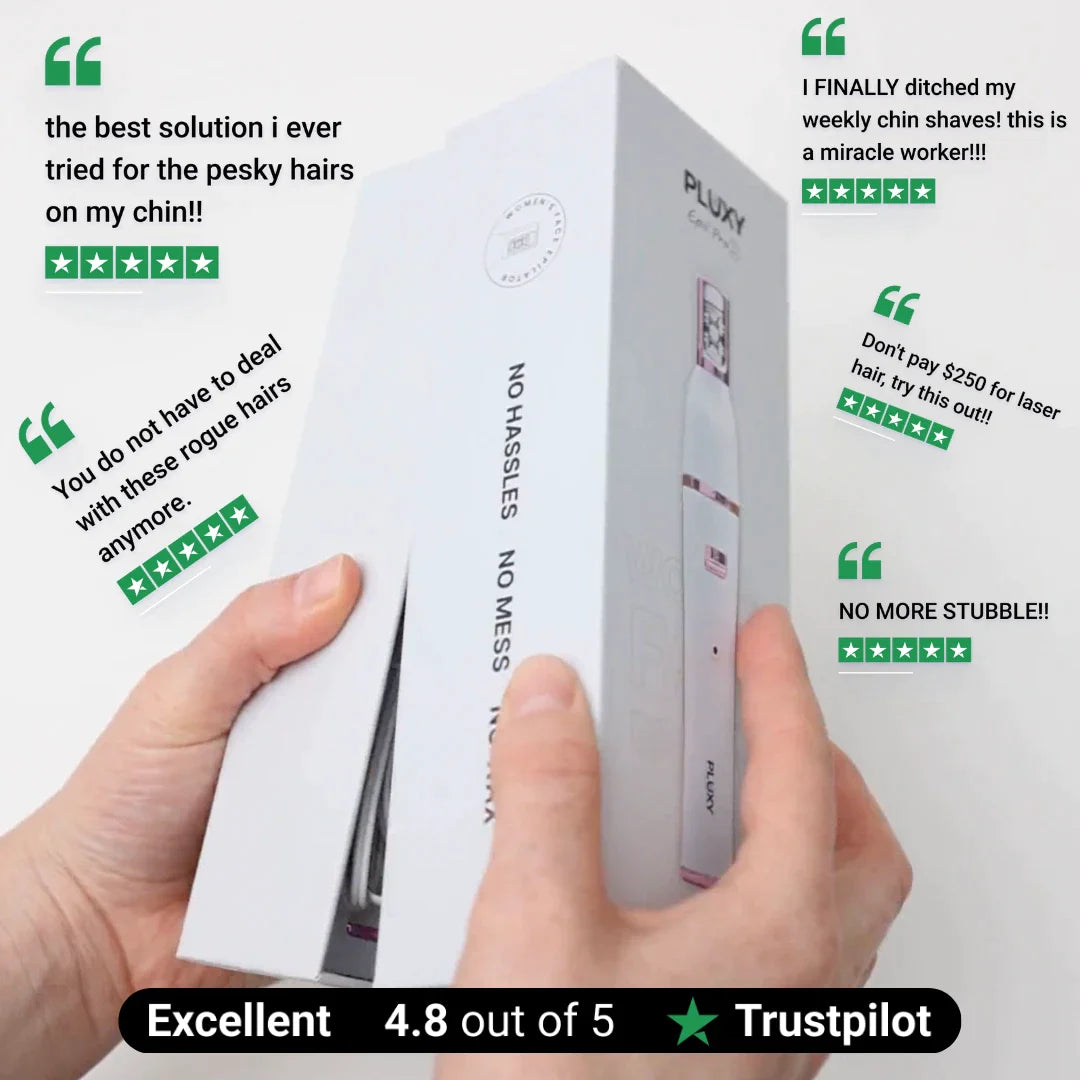 You'll Feel Liberated.
I love myself, who I am, what I look like. But let's face it, we all want to give ourselves more reason to feel confident. So here it is ladies, the answer to your 11pm tweezer themed prayers and that darned 5 o'clock shadow.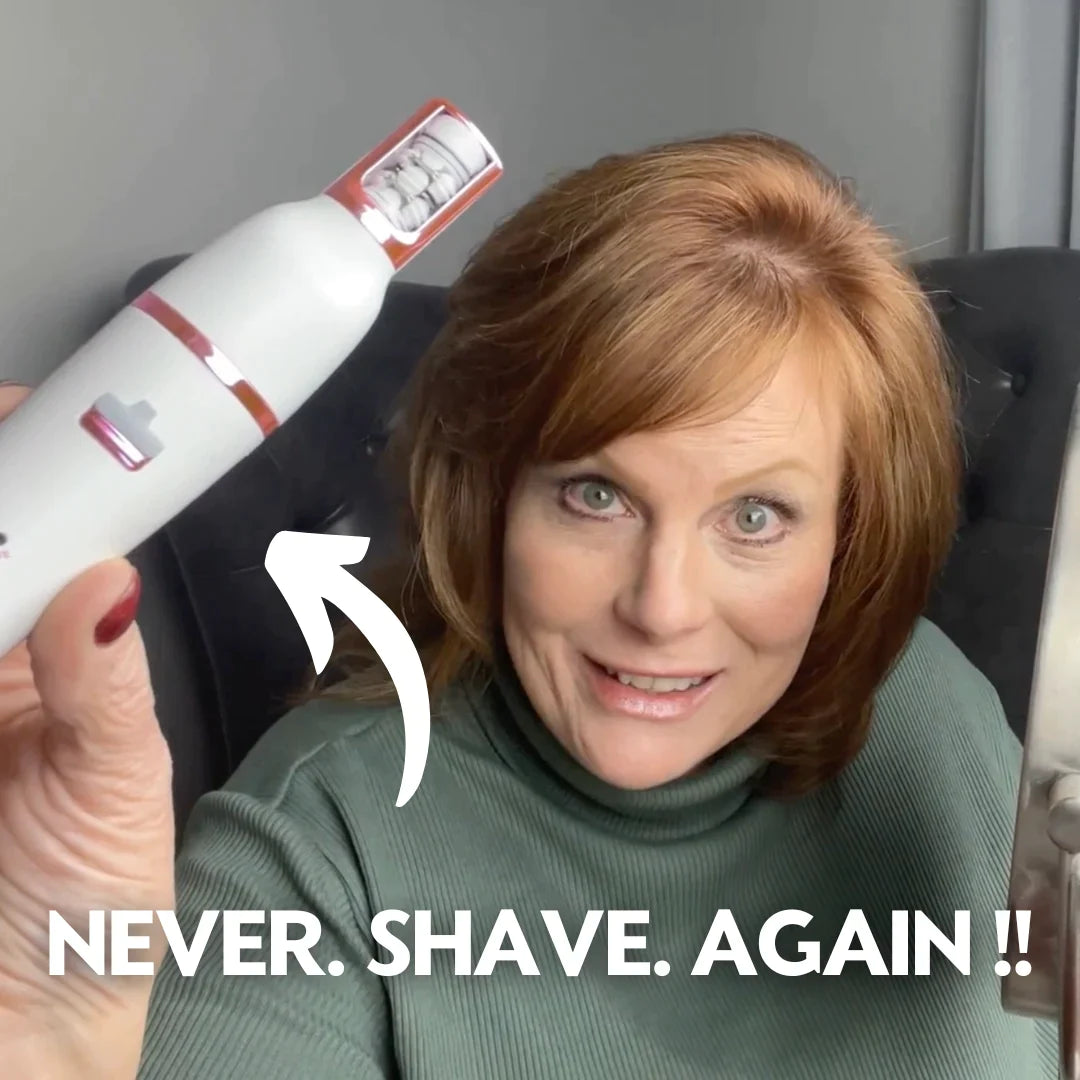 It Saves You Over $700.00USD
With the Pluxy Epil Pro, you won't spend excessive amounts on overpriced, undervalue salon visits anymore. This is a huge money-saver: it would cost way more than $700.00USD to get all these benefits from salon visits every year, not to mention the cost of fuel or travel to get there and back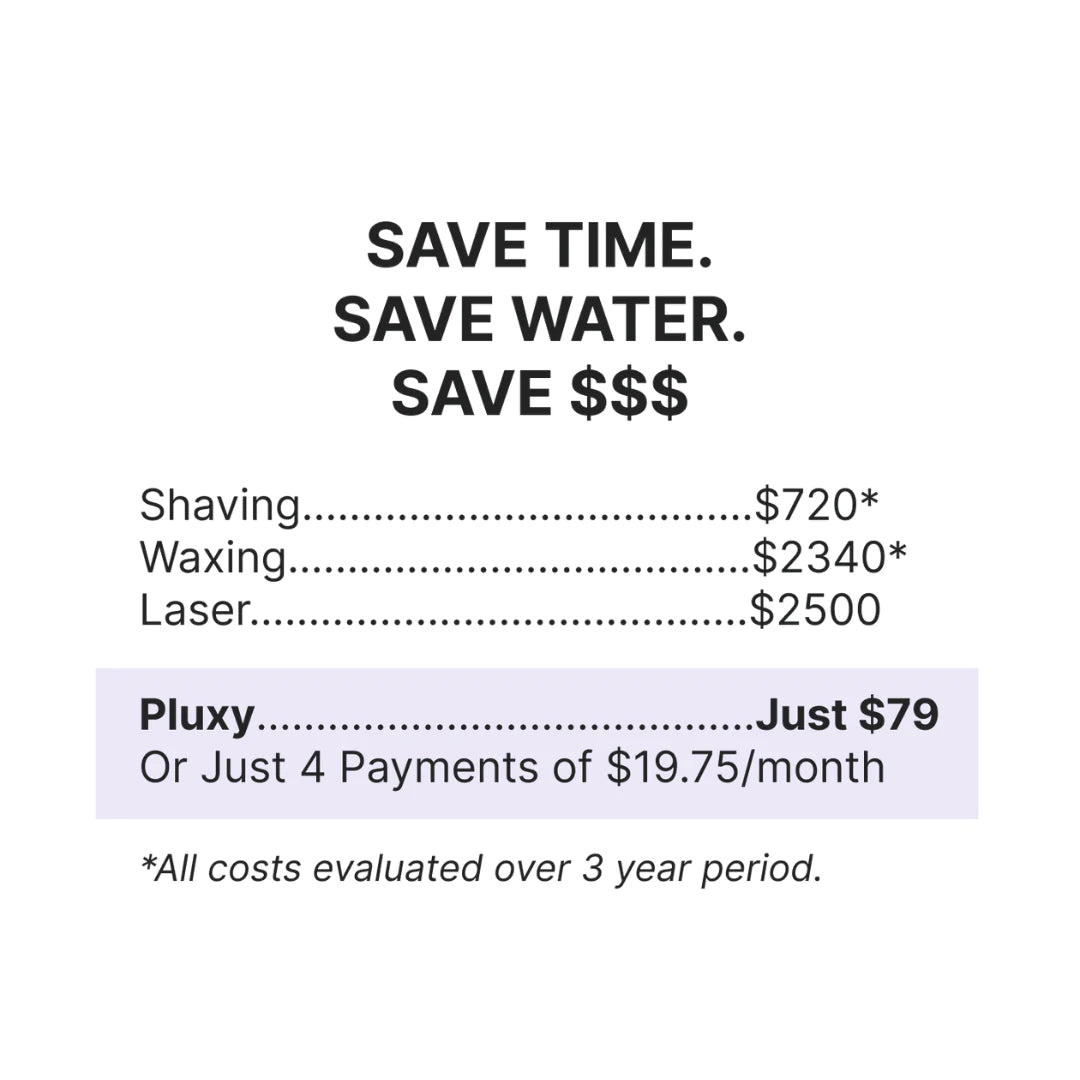 You Get A 90 Day Guarantee
If your face doesn't look and feel smooth as a baby's butt after 90 days, you get your money back. No questions asked.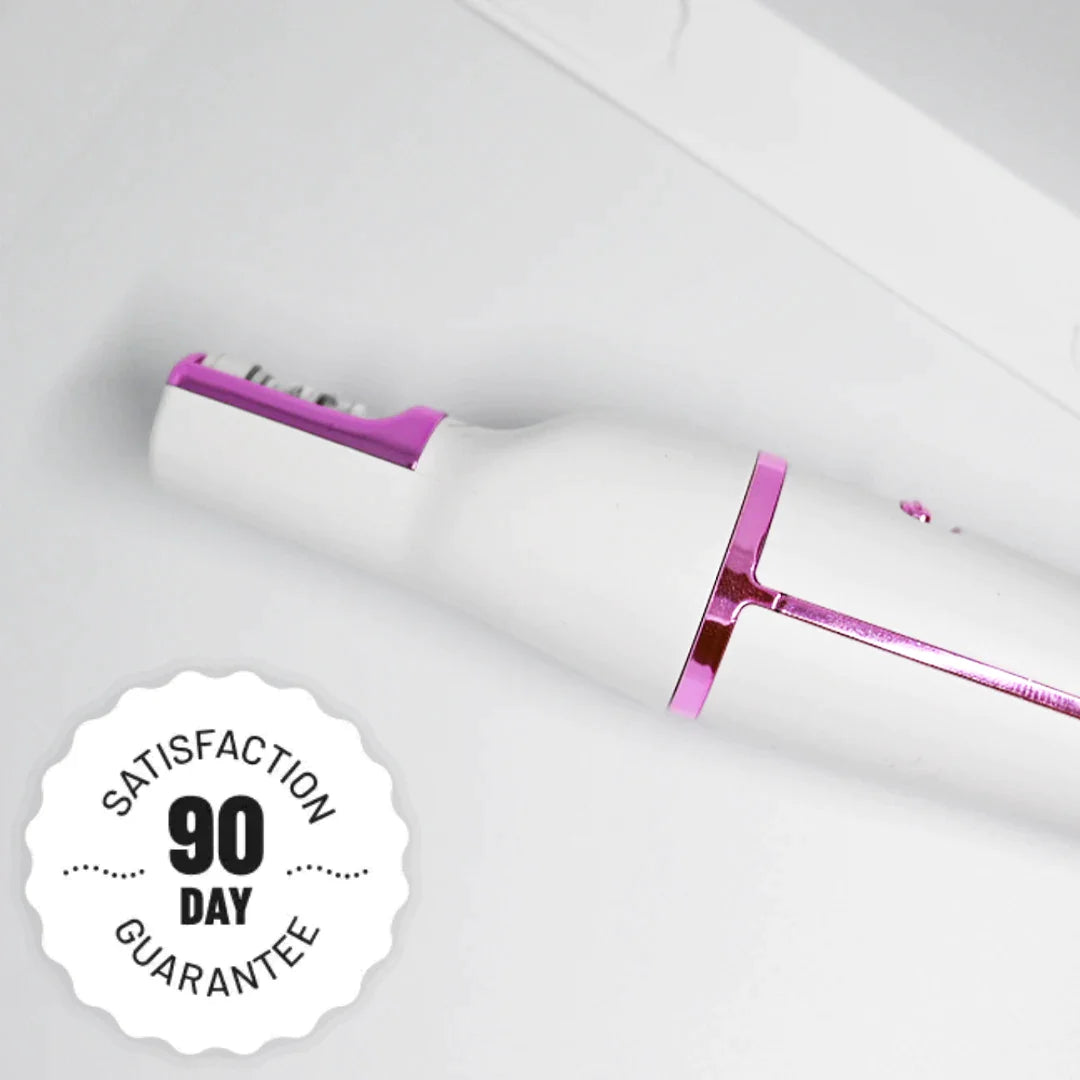 Don't miss out on Pluxy's Winter Flash Sale!
(*While stocks last)
New Customers Get 35% Off Their First Purchase! Plus Free Shipping + Our 90-Day Money-Back Guarantee

Check Out These OVER 20,000 Verified reviews
Not painless
You could not have a product that quickly rips the hair out of the follicle and not have some discomfort. But you do sort of get used to it and if it's an area that has never been shaven, much less discomfort. I wish I would've started out with this when I was 12…🤷🏼
ITS UNBELIEVABLE !
I don't usually spend my time writing reviews but—- I know this is gross BUT I have long chin hairs and upper lip hairs. I shave them with one of those new products that you go round and round in circles AND yes it does shave them,( like using a regular razor would) HOWEVER, I then may visit someone for an hr and go to groc store . By the time I get home I have what feels like 100 pieces of stubble on upper lip and chin. It's horrific. I bought this knowing I was prob just wasting my money BUT NO!!! I tried it and yes since it is pulling hairs out completely it did hurt somewhat but I proceeded onward. This sounds ridiculous to say but I feel in way it is life changing. I was so tired of feeling stubble and hairs even after I had attempted to shave them. I now know I can use the product and not have to worry about who is starring at my chin hairs/stubble the next day..
very good - and NOT painful : )
I was hesitant about buying this, but went ahead and tried it.
It is really good. I don't have much facial hair, but the little I do have comes off nicely and the skin feels smooth afterward.
Of course not every little hair comes off, but it does a great job.
I read reviews saying it was really painful and have to disagree - it is NOT painful at all! Even in more sensitive areas like the upper lip. Maybe because I don't have too much hair, but I am very sensitive and my pain tolerance level is very low. Tip: don't apply too much pressure as you go.
I have not used it for travel, but it is small enough to make it easy to pack.
Great little gadget
The little hairs on my chiny chin chin disappear just like that. And unlike waxing they stay gone longer. Love it.
amazing
let me say I love this device. pulls the hair out perfectly. first time using it and my face feels so sorted and I love it so much im going to buy one for my mom and aunt excited . at first I was nervous but then the pulling of the hair is not bad dont hurt to bad . just a little uncomfortable. but I'm ready to try it again tomorrow
Get it you won't be disappointed
Skeptical For at home and for the price, blown away by results. Had seen a professional for epilating left me blistered for 2 weeks. Laser treatments in past - too costly to keep up with. So I resulted in shaving, I can without a doubt say I'm soo happy to have found something that works for me. A week later and little to no hair showing when I would shave almost twice a day. Don't second guess, make the purchase I hope you enjoy and am surprised as much as I was. Yes it hurts but pain is beauty and it's do able! I have dark and light hairs, some fine, some coarse.
New Customers Get 35% Off Their First Purchase! Plus Free Shipping + Our 90-Day Money-Back Guarantee
"THIS IS AN ADVERTORIAL AND NOT AN ACTUAL NEWS ARTICLE, BLOG, OR CONSUMER PROTECTION UPDATE This is an advertisement for Pluxy Co. and is intended for informational purposes only.
© 2023 Pluxy Co. ALL RIGHTS RESERVED. Privacy Policy - Terms of Service"